My fellow TPFers hope you are all well! A quick reveal for you all...
Iv loved handbags forever... my first designer was the LV Ellipse in MM and the obsession never diminished! I have now got many LVs but recently nothing has been catching my eye... my HG was the Chanel classic flap but I never thought I'd be in the position to own one with all the crazy price increase. Sooo last year In Feb i started a new job and promised myself that I'd work hard and when I got a permanent contract I'd splurge!
Fast forward to today... presenting the Chanel Classic Flap in Black Caviar, Maxi size with SHW!
For reference I am 5'3 without heels and a UK size 12. I paid £4830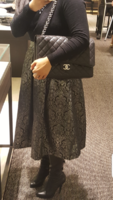 Sent from my SM-G928F using PurseForum mobile app