I saw this in a Chanel group on Facebook the other day. A girl said her SA told her about there being a Reissue mini in aged calfskin for prefall!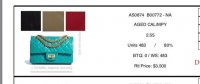 Of course I immediately tried to message my SA but I think she left without telling me (maybe i'm too small of a customer?) so I rushed to the nearest store and bugged an SA about it. He literally did not understand me for 5mins despite showing him the above picture. I don't think they've heard about it yet?
I haven't seen it discussed here, either. What do you guys think? Is it happening? Is this something we want to jump on? Perhaps with the lack of caviar minis they have to bring out another hardier leather option in the mini size?