Hi all Chanel lovers ~~~~
I've watched a Youtube video made by SuperDaco recently talking about how to score a Chanel Classic Flap (the Jumbo size) that's made in France ... He made points that since the demands are so high, the french factory couldn't keep up with the production, the fashion house has to outsource the production to Italy...then it got me thinking about the origins of all my Chanel collections (to name a few below)
1. Beige PST
2. 2 x rectangular minis
3. Mademoiselle (medium-sized)
4. Reissue (medium-sized)
5. Combon small cross-body bag
....
a few pics here: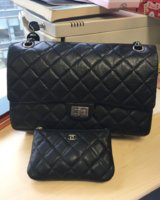 They are ALL made in Italy ... of course, the SLGs are made in Italy as well... few pairs of my Chanel earrings were made in France, then the rest of them were all made in Italy.
Well... here comes to the question:
- Do you mind the if your Chanel (i.e. a France-origined Fashion house) handbags are all made in Italy rather than FRANCE?
- Do you plan to get a france-made Chanel handbag?
Let me know your thoughts please... Cuz now.. I can't stop thinking about the origins now..