Super depressing thread...
BUT, my Chanel Cuba mules' "pearl" just broke off... Have a call into the boutique to see if they have extras, but I really doubt they do.
Does anyone have any advice if the store can't do anything?
I was thinking craft store DIY fix?...
So upsetting. They were a "2016 sucked, but it's ok you worked hard, cheer up" gift to myself. And the first non-classic pair of Chanel shoes I've bought.
I was literally just taking them out to show my sister and was talking about how much I love them, when wham!, I dropped it.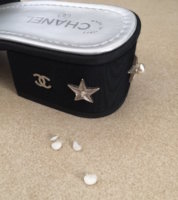 note: I've never even dropped my case-less iPhone, but of course I drop these and they break!!!
Last edited: