I am planning to keep only one of these two as they are too similar to keep both (black flap bags with *mostly* gold hw). The classic flap is about two years old and i've used it probably five time at most The 19 flap is brand new never used it and can still return. I'm 32 yrs old, single, no kids.
I love the look of the 19 but I am afraid to let the classic go due to price increases - what if I want to bring it back to my collection in the future and it costs a lot more than what I sold for? But I am also not sure about the longevity of the 19 - will it go out of style? Would the structure hold ok?
another option is to get the 19 exchanged for a beige 19 And keep both beige 19 and the classic. Not sure when I can get a beige. And I wont go bankrupt if I keep both but still prefer to keep that money for something else.
my other Chanel bags are a red mini reissue and a pinkish beige mini square (See my profile pic for ref)
I am a casual dresser and wear biz casual to work (if I get to go back to the office)
Any advice and comments would be appreciated
Thanks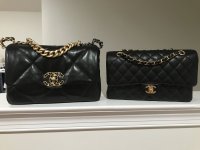 Last edited: