My beautiful pre-loved Chanel which I have had for 6 months is slightly sagging on the left side of the bag, I have attached some pics for u guys to see for yourself.
I knew the bag had this issue when I purchased it and I just wanted to know whether anyone has any helpful tips on how I can fix this or make it a little better.
Also, if anyone sent their bag for repair at Chanel and how much this would cost.
I make sure to never overstuff the bag, I'm very careful with how I put my things in there (photo attached) and how I store it when I'm not using it.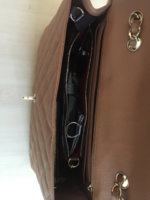 Thanks!!