So I received this bag about 2 months ago and haven't shared because I've been slowly trying to restore my rare vintage basket bag. Continue reading below for the horror story!
So about 2 months ago I was perusing the preloved mark and spotted a Vintage Chanel bag I have been searching for for YEARS. I bought it immediately. It was purchased from a VERY reputable preloved site (the name of the site is not necessary because mistakes happen and they handled the mistake well after I emailed them). Anyways, the bag arrived and much to my horror whoever had packed the bag left the chains unwrapped to LAY against the back of this lambskin bag for a WEEK (it was shipped around the holidays so that slowed shipping). I was horrified when I recieved the bag. Returns weren't an option because I had been looking for this exact bag for years and the only other ones I had seen were 5-10k in
eBay
.
So thanks to the advice I found on TPF I've slowly lessened the chain dents. I posted the before and "in the process" shots below. If anyone is curious I've gently used my hairdryer on high heat for about 2-3 seconds and rubbed the debts gently with clean hands. It's definitely not 100% but it's better and I can live with it. I'll update it if I get them out completely.
Let me know what you guys would've done?! Any tricks? Thanks!!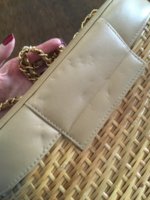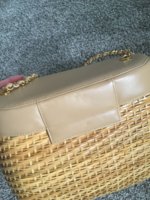 Last edited: