Hi, I purchased a CF black caviar in small with silver hardware.
My country doesn't stock CF small normally so it's nearly impossible to buy and I am travel banned to visit the other country because of covid-19 travel ban

. However, the country where my bf stays has it in stock pretty often so I could luckily get it a few days ago.
Besides all these, let me get to the point. So I have this concern about "air bubble" "air pocket" inside of the bag like the bag lining.
While I was searching for what to look for before buying a CF, I watched this youtuber and she had this issue. I was hoping mine doesn't but when he was at the store, I asked if there's any and he could feel the bubble a bit. But the SAs said it's not a problem? I sent him the video and asked if it's as bad as the video of youtuber and he mentioned it's exactly like that.
So I wanted to hear opinions of you guys and ask if this is a normal thing or a defect...
One kind lady on my other post has told me that she has seen it happening on the bags nowadays..but I'd like to hear more opinions! Thank you for all your time. The store didn't let a customers taking a video so
I only have a photo of mine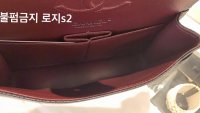 I could see the bottom is bit bubbled up if you can tell or not..
And this is the youtube video I watched and found really informative and helpful as below.
Does yours have any problem like hers as starting from 6:55-7:28
So after that, I was really confused if this is normal or abnormal...
so I asked my SA for a video of another bag at the store (when i was buying, mine was only one in stock), and she kindly sent me.
Do you think this one also has the issue?
My bf said a lot better than mine..
I'm so sorry to keep mentioning my bf but he was the one there purchasing my bag for me..
Anyways, have you guys ever had this same issue? Or is this not an issue?
Should I exchange or not, I don't know if there will be a brand new one in stock before upcoming price increase which we have no clue when..Or if it's just me being exteremly paranoid and picky about the bag..
Last edited: