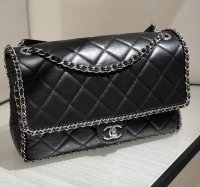 So I am going back and forth with the All Around Chain bag. My SA told me that they have one more left and now I am undecided whether I should pull the trigger on it or not.
For those who own it - how are your All Around Chain bags holding up? Are the chains still intact?
My impression of it is that I wouldn't have to worry about getting scuffs on the corners because they're kind of protected by the chain links, am I right? Or are the chain links covering the corners more prone to damage?
I'd like to know your thoughts!