Hi!
I have a question about a Chanel 2.55 classic double flap that I bought a couple of days ago preloved. The bag was originally bought in 2012 and is in black lambskin with silver hardware. The interior of the double flap is discoloured slightly on the sides and I cant figure out why. Most importantly I don´t know if I should try to treat the inside to see if the black staining is removable. The thought has crossed my mind that the bag might have been restained black, but it almost looks like it has been very sparsly used, with no scratches or damage on the sides, so it seems unlikely that it would have needed a restaining.
Does anyone have similar experience or any advice what I should do with this?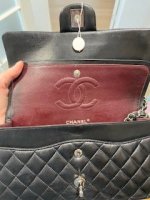 Also the only damage I could find on the bag is a scratch in the lambskin just next to the CC turn lock.
Is this something that could be repaired if I take the bag to Chanel? I thought maybe the whole CC lock leather pad might be replaced. Its not something that bothers me greatly, but it would be nice to know if it is something that Chanel might fix. =)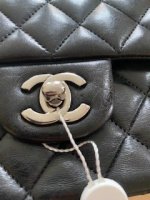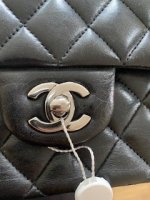 Thankful for your advice!
BR
Anna