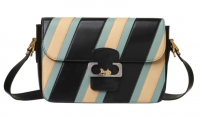 Recently, I came across this bag online. This photo (above) was published in 2018.The shape is similar to the new version of the triomphe bag but the logo is horse carriage (Sulky). The horse carriage is an old logo of Celine (dating back to 1966-67). Based on what I have read so far, this particular style with this logo dates back to the 70s and 80s (first designed 1975). In 2018, Phoebe Philo reintroduced this bag (see screencapture below) and recently, Hedi Slimane brought back the Sulky logo in Celine's new collections.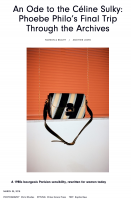 I really like this bag but I can't seem to find it anywhere. I saw similar vintage bags with the horse carriage logo (in various iterations). Also, the bag shapes vary, some are boxier than others (more similar to the classic box bag). I prefer the more rectangular shape (like the current triomphe bag). There is something about the horse carriage logo in this bag that makes it look really classic, luxurious, and timeless. I am now looking to buy a version of this bag.
If you know anything about this sulky bag (or if you own one - vintage or purchased in recent years), please share photos and information about your bag/s. It would be nice to have a thread dedicated to this gorgeous bag!
Last edited: