I'm in the market for a medium-large, open-top, carefree tote that I intend to use for work, weekend, and for future baby stuff when the time comes.
I want a neutral, so either dark grey (still missing from my collection) or a canvas piece.
The 2 I'm considering:
1) neverfull in DA. I already have 2 DE bags, and one mono, so I want to switch things up. I haven't ruled out epi, but I wasn't really wowed by it when I tried it on in purple.
Does anyone use the NF DA as a baby/mom bag? Am I nuts for considering it for this purpose? I'm not one to baby my canvas bags, and I don't mind patina. In fact, my speedy B has some watermarks from an accidental spray with water, and it doesn't bother me at all. All I care about is that any color transfer would be easily wiped off. I do like how NF are tried and true and durable.
2) st laurent shopping tote in dark anthracite. I like that this bag is in the elusive dark grey I'm missing, and that it's not quite as ubiquitous as the NF. I saw some reviews of how the inside scratches more easily, but I care more about the outside's durability. I do hesitate because this is a newer bag, and I don't have much info on use of the bag for casual/mom purposes; most I've seen tend to use it as a work tote.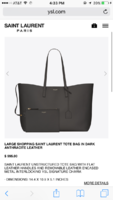 Thoughts?