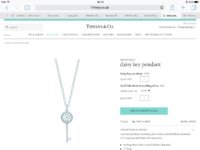 So today I received my stunning small Daisy key in SS and already I'm dreaming about wearing it on a longer chain with another key (the obsession begins!).
So at the moment the plan is to put the two keys on a black cord (non-Tiffany for the time being).
Which key do you think would look nice?
I like the look of these but am also open to suggestions!