Referring to the long patterned scarf (with brown—or is that maroon?—in it) in this photo. NOT the short black one.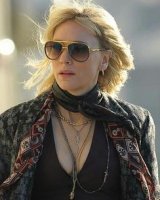 Costumer said it was vintage in an interview.
She wore this on the set of the film and/or in the movie itself.
Also wondering if this pattern has a name. Have been googling "foulard," "geometric," and "medallion." Haven't come up with it yet.
Thanks!