Originally, I was getting a Rolex for my 30th birthday next year but DH has said I can buy one Thursday instead! I'm super excited but I feel so unprepared!
About me: I tend to lots of burgundy, navy, grey & black. I wear dainty jewellery. I wear small RG diamond bezel studs & either a small dbty in SS or small RG diamond pendant. Sometimes YG hoops. The issue is with my plat. Diamond/green diamond wedding set - I'm worried that I'll buy a watch which clashes with it since I'm wearing it on the same hand. Here's a pic: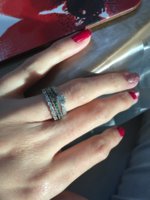 From January 2018 I will be a stay at home Mum so working environment doesn't matter.
I have narrowed it down to these choices. They are very different.
I think this one would clash the least with my rings. BFF thinks the diamonds are too blingy for my look. It's also the most expensive option.
I like the black face on this as it's a bit different. Would go with my rings but not feminine enough to go with other jewellery?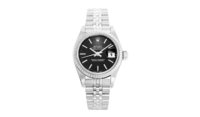 A TT option which seems less "bright" & might clash less with my rings. BUT since my gold is RG will the YG in the watch match ok?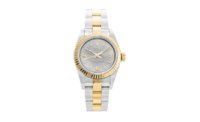 This watch feels very "me" & vintage. Goes nicely with my wardrobe. Will IT clash with my rings? Will it flash with RG jewellery?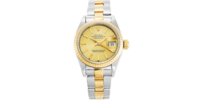 Thank you so much for your help.