I am looking into adding more bracelet for stacking.
I like to wear my bracelet 24/7. So that leave me with very limited choices. shall i get a bangle or another motif. I practice yoga every day, bangle might get in the way when I practice.
this is the current bracelet.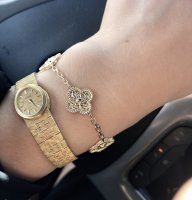 Thinking about get one of below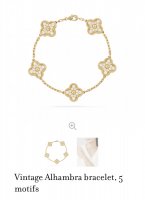 So all my current VCA are in yellow gold. But most of my other jewelry are in white gold. Shall I just continue to build my vca collection in yellow gold so I can wear them together? Or shall I get some pieces in white gold so I can wear them with rest of the jewelry? I dont like to mix metal together. but maybe i should not be lazy about taking jewelry off hahhahaha so i wont have any of these problems haha
Last edited: