I visited the boutique to check the Kelly 32 Celemence in Ebené this afternoon in south of France where I am spending my well-deserved holiday.
My lovely SA advised me that there is the Kelly he offered to show and in terms of Birkin, there are Feu, Etoupe and SO in Caramel/ lime.
As I have Evelyne in Etoupe, I asked for the SO birkin.
It is Togo, Caramel outside and Lime inside. PWH.
When I heard of LIME, I wasn't' sure as I am not a fan of bright colours. Love at first sight. However, as it was lime only inside, it was actually not bad. Love at first sight.
However there was no horseshoe mark so asked him why so.
Apparently, each year each boutique is offered 4-5 SO for the boutique, not clients. And this Birkin was ordered by the boutique.
I am more likely to get this birkin as it was very special and interesting colour combination but I wanted to share this info with you and ask whether any of you were aware of this boutique's own SO thing?
Thank you in advance from a mum who is sitting next to 3y.o boy who is watching Paw Patrol x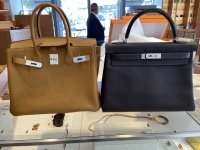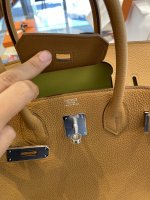 Last edited: