No rain, no rainbows.
Authenticator
O.G.
Doing some unrelated research and came across this article from Prestige, from last October.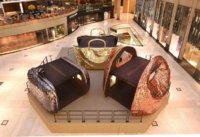 It's about an installation that also celebrates Tomas Maier's 15th anniversary with BV, and the three iconic bags BV is known for. Did anybody go through this when it was in Hong Kong or Dubai or Shanghai?
http://prestigeonline.com/hk/Fashion/News/Bottega-Veneta-Presents-Pattern-Recognition