I look worse than before

It has been almost 5 months since I had my rhinoplasty surgery with Dr. Monisha Kapoor in Saket New Delhi.
I can say, there is no bigger regret than choosing Dr. Monisha for my primary rhinoplasty. I am not the prettiest person, but I was cute and attractive. After undergoing surgery at Dr. Monisha's my self-esteem got destroyed and I went into depression. She is a sweet and eloquent talker and she made me believe she could give me the nose I wanted and I trusted her. I felt betrayed because my nose now looks horrible! My mom told me that I look so ugly now!
It feels like I have given 2.8 lakhs ($3500) to get my nose deformed.I am left with a very thin, too pinched and pointed nose for my face. The alar reduction was too excessive that when I smile I look deformed!! Like a witch literally...
Her staff said that she's the best plus she's more expensive than other Plastic Surgeons in Delhi that's why I thought she would be good but they are just good in advertising and full of fake promises! It's better to go with a doctor who is honest in what can be achieved.
PS I cannot breathe from my right nose because of too much scars tissues which makes it looks like a collapsed nose.
I'm waiting for revision rhinoplasty for next year because the nose has to heal properly. I wish I could turn back time...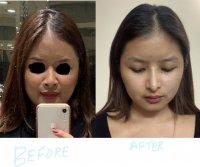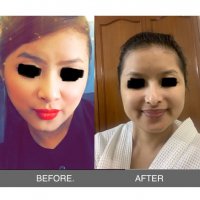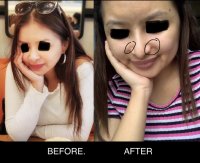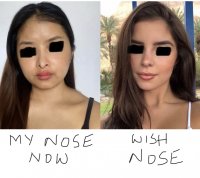 The picture on the left is how my nose looks like now and the other picture in the right is my wish/ how I want my nose to be. They say that I have used filter...it's funny to see how easily they are ready to put every blame on the patient. However a bad nose job is a bad nose job. Everyone knows that I look better before the surgery. I was told to wait for a year so that I will see results and it seems like they are a lot of other patients who are not happy with the results as well. I don't necessarily feel you have to wait a year because once it reached 6 months most part of the nose has healed and you can even have revision rhinoplasty if you want to. Your nose doesn't change much after 4- 6 months only small invisible changes will happen.
The surgeon tried to convince me that my nose looks great because she cannot accept that she did a bad job. They told me that they are 3-4 patients who wants a nose like mine after the surgery...is it true?? I don't know ‍
I feel that you should not blame the patient for the outcome of the surgery since they were not the ones who had performed the surgery. It's downright unethical to blocked your patient while discussing her concerns. If you cannot deal with her anymore just accept that you are sorry that the surgery was not successful and you cannot refund her the money.
It's my fault that I went to very immature person for my primary rhinoplasty. I will update my nose again after 6 months and after I got my revision rhinoplasty. Let's hope and pray for the best
Red flag I have realised after my bad nose job:-
1. The doctor saying that they can give you exactly like the nose you wanted. That's not true because they are not GOD.
A clinic that self acclaimed that they are the best rhinoplasty clinic in India or wherever. They are only interested in your money
The surgeons who does not spend enough time and discussions with you regarding the surgery and doesn't explain it to you properly.
Made you sign a documents before your surgery without explaining anything to you.
The doctor himself/herself has to be there when the removal of cast is done after 7 days so that she can check your nose and see everything is fine which in my case doesn't happen.