@ksony
Thank you for all this phenomenal detail! My closest stores are in a mall about an hour away from me. So, I never get to see anything in person unless I specifically make the trip, happen to be in the city, or am traveling. In May, I was in Italy and did get to see the Bobby in person and fell in love with it. I didn't buy it, though, because I was set on getting something at the
Gucci
flagship boutique in Florence. These cartridge style bags must be coming back into style (did they ever go out of style? It is kind of classic silhouette) because Gucci had a similar style. When the SA saw the styles I was drawn to, but that I wasn't looking for a monogram bag, she went in the back and brought out these two bags. The size is somewhere between the medium and large Bobby.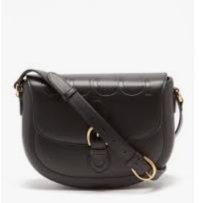 I agonized over which color to get. My heart wanted the brown, but I ended up with the black because I thought I'd get more wear out of it. A month after getting home, I was still thinking about the brown. And I loved the fact that this style isn't available in the US. So, I reached out to my SA in Florence and purchased the brown. These are smooth calfskin, and the leather and craftsmanship are superb. Although not as shiny and polished as the Bobby or Celine box, they will eventually show scratches and marks. I'm finding I don't think I'll mind seeing those marks on the brown as it ages. I think some wear will give the brown some character and make it look more vintage. But the black really shows everything, including fingerprints, and it's already driving me crazy. So, maybe something to consider when deciding on color and leather type with both the Dior and Celine.
Now I find I'm going back and forth on the Bobby entirely. On the one hand, I have these two bags that are very similar. So, do I really need another? Maybe I should look at other styles? On the other hand, I love a flap style bag and these really are classics that will withstand the test of time. So, since I know I love and use this style of bag, maybe I should get it? Even though I'm trying to be practical, I find myself coming back to Bobby. Then I go back and forth on color. I don't have anything like the warm taupe, so that color would fill a need in my collection. But, I can also see myself retiring my black Gucci from daily use because of how it shows everything, and I think I'd love the black grained leather Bobby for daily wear.
Long story short, I don't know that I've made as much progress as you in my decision making process. LOL! I do think I'm leaning towards the warm taupe because it would be unique for me, and black is always available if I decide I want it some time in the future. Decisions...decisions...
Can't wait to hear what you think of the Celine classic box!