Hi guys

I'm normally not a frequent poster in
Prada
, though I have several and love them... but I just have to share my new aquisition!! I got an e-mail from Bluefly this morning about exclusive access to new designer accessories, and there she was on the first page, a gorgeous ombre tote! I've been looking for an interesting, unique, yet still professional bag for a while, and I really hope this is it once it comes in the mail... Anyone have this bag, have any thoughts??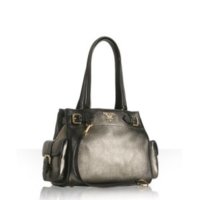 http://www.bluefly.com/pages/produc...6369&FOLDER<>folder_id=2056196515&rvform=true
Here's the e-mail link if anyone wants to get in on the new shipment- I also saw an ombre clutch and some other fabulous Prada stuff! There's also a new 10% code on page 48 I think of the Bluefly thread in Deals & Steals...
http://www.bluefly.com/pages/browse...-_-11_17_07-_-Cat_W_Accessories_T-_-w_shopnow