Hi all,
I recently purchased this necklace and didn't know about the Build Your Own Pendant option. I feel like such a moron. For the amount I paid, I could have gotten a larger solitaire and I'm kicking myself for rushing this purchase. With the Living Social voucher, I paid $1500 for this necklace. I'm researching the customized Build Your Own Pendant option and could have easily gotten a .50 ct in a platinum setting within the same price point.
I'm most likely looking into returning this bezel necklace but I'm annoyed at myself and paranoid about shipping it back.
Am I crazy? Should I just keep it?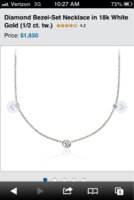 (from website)
(actual picture)