Hi!
So it's birthday month and I've been craving a new (Chanel) boy for a while now....ideally, a black boy in old medium....To me, a black boy in that size screams...look look I'm edgy, chic, smart and yet discreet with the allure of luxury....
So my SA messaged me today she has these two boys in store....
A Black old medium chevron boy with calfskin, grained calfskin and suede and ghw
The second one is a calfskin new medium boy with rhw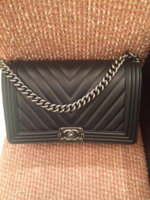 The chevron boy seems more appealing and has more character....my only concern is the hold up of suede (I live in India, it's beyond hot and humid here) and then the ghw.....I'm 22 so it is a little more mature for me but then again it's Chanel...and is an investment in its own way......
Should I bite the bullet and get the chevron boy home or wait it out and pick up one of the caviar boys coming in next season?
Thanks in advance,
Arshya