The Birkin Sellier first debuted in Spring/Summer 2015 in size 40 only. (Pic from
@s2861301
)
Fast forward to the Resort 2019 runway show, we see sightings of the Birkin Sellier again. It was only available as a push offer item in size 30 and 35 in Veau Naturelle and Veau Graine Monsieur for Spring.
It is however now available from podium for current Fall/Winter 2019. It now comes in size 25, 30, and 35. The various leathers available include Epsom, Veau Madame and Veau Monsieur.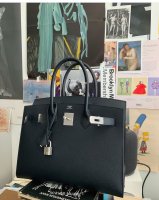 Bleu de Minuit Birkin Sellier
(credit: seasonhuang on IG)

So, what are your thoughts on the Birkin Sellier? Yes, no, maybe so?

Discuss!