I received this little beauty for Christmas 2012 and I could not be happier! I have not brought her out yet unfortunately, because I don't have the right wallet for her. But hopefully soon

Edit: Sorry for the large pics, I posted from my tPF app and this is how it turned out!
Presenting...
My Eva Clutch in Monogram!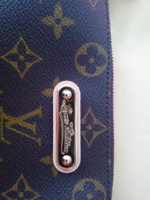 I don't know why Eva was never on my radar before, but I'm incredibly excited to have her! Thanks for letting me share

Last edited: