Hi!
So for years I'm using this set from a well respected manufacturer. ("Imantado" by Niegeloh - Solingen, Germany)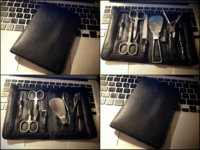 I'm really quite happy with it, the tools are of great quality and the leather case is super soft, has a nice feel to it and is very well made. Until now I use it both at home and while traveling. The only thing that is absolutely useless is the foldable shoehorn...
Now I'm looking for a set for home use only, and it should come with a stand. I want something very high quality and stylish (luxurious). For the tools: I'd like it to contain at least nail scissors, nail nippers, tweezers, and a file.
I found this one at Zwilling from their "Twinox Spa"-series that I like: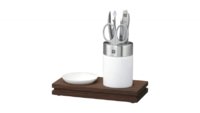 Picture (c) by Zwilling / Source:
https://de.zwilling-shop.com/Bad-St...ei-5-tlg-TWINOX-Spa-ZWILLING-97348-000-0.html
But I'm wondering if there are other manufacturers and products I should take a look at? I don't mind importing - so please feel free to link to your local sources/manufacturers

Thank you very much and kind regards,
Oliver