Hello everyone!
So, I have been looking for some pretty and festive shoulder bag straps and I realized I have a ton of belts that would be perfect to repurpose as straps.
Could anyone give advice on how to turn belts into bag straps?
What tools do I need to purchase/have? Any place you recommend for hardware?
Here's a fabric belt I want to use as a strap for this convertible backpack/purse: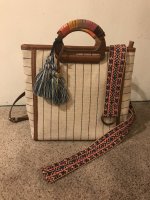 I also have some leather and vinyl belts I would like to convert into bag straps:
Thanks!