February's Bazzar listed a few bags as the "it" bags of the season yet I only recogize a few.
Is anyone familiar with the Marc Jacobs "Robert" $1195?
The Balenciaga "Hook Duffle"?
The Jimmy Choo "Ross"?
Here is what I found on the Ross only: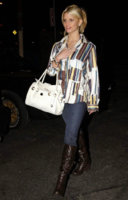 According to SheFind's.com:
"But, as must-haves often are, the bag is a hard commodity to find, making us want it all the more. Very few online retailers are authorized to sell the large-ish satchel, which is a double handled bag with a leather strap running though grommets, and a "lock" closure. However, we found it at upscale British retailer
Harvey Nichols
, which has the bag for £875 (or about $1,500US). It also comes in black, plum and green python, but the deeper colors aren't the trendy must-haves that the orange bag has become. It's been seen on the arms of J.Lo, Liz Hurley and Kiera Knightly.
Jimmy
Choo
stores sell the bag for $1,450, and I've known of the
Ross
bag retailing at
other places
for as low as $875. Not all that glitters is gold, so you might have to shell out some extra bucks to be assured of getting the real thing. Find genuine
Jimmy
Choo
Ross
bags at
Harvey Nichols
."
"According to
Fashion Week Daily
the
Jimmy
Choo
Ross
bag is the new "It" bag. " - the budget fashionista