It's a clown world after all
I think it's great to be able to "think out loud" among other Bal lovers, newbies and experts, about the pros and cons of bags you'd like to buy or are planning to buy. And the bags you don't know if to keep or sell. Don't know if anyone is interested in doing this but I'll start.
I'm hoping to find and buy Classic City:s in red, in light brown and in blue. A blue bag is a new idea for me because until I saw all the blue Bals here, blue bags seemed a bit strict to me, more an office type bag colour. Well, the City changed my mind, but which Bal blue to choose?!
I've sort of come to the conclusion that a darker blue would be more versatile for me, because it'd go with any blue colour or any pair of jeans I'd wear. Balenciaga have what looks like a lovely dark blue City right now, the "Bleu de Minuit". I don't know if it's last season's colour or if it's new for F/W?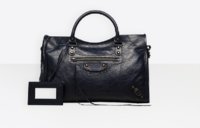 Anyway, I'd would love to hear about somebody else's experience with choosing and wearing blue Bals, which blue you have found most versatile/practical etc. Please don't tell me you need more than one blue, I'm trying to be minimalistic about this and stay under five Bals

Or is there some other Bal and colour you're thinking about?