This
Wall Street Journal
article about Balenciaga's Spring 2023 show notes it was held at the NY Stock Exchange. It has a small blurb about a collab with Adidas...interesting since in June 2022 the
Gucci
x Adidas collection will be released!
Here is a Youtube
video
(action really starts at 12:00 mark) and full article:
Sex, Money and Fashion: Luxury Label Balenciaga Fetishizes Suiting at the New York Stock Exchange
The French brand showed its spring 2023 collection, which includes latex fetish bodysuits, at the iconic Wall Street landmark
By
Rory Satran
May 22, 2022 7:23 pm ET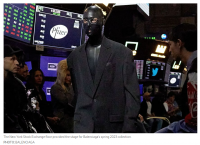 Were the models at Sunday's Balenciaga show the first people to wear latex fetish bodysuits on the floor of the New York Stock Exchange? Impossible to fact-check, yet it was certainly one of the riskier moments in the exchange's 230-year history.
The French luxury label certainly chose a grabby location at which to reveal its spring 2023 collection. An off-calendar show, it is the first Balenciaga show in New York since 2003 and select pieces are to be sold immediately at the brand's website and at its Madison Avenue store. Following a week in which the S&P 500
ended down 19% from its Jan. 3 record
—nearing the 20% that would tip it into a bear market—the stack of fake dollar bills that served as the show's invitation felt particularly poignant.
Showgoers were seated throughout the actual stock-exchange floor, a first for a brand and a coup for a French brand that illustrates Balenciaga's muscle as a force within the
Kering
group. The show started with the ceremonial ringing of the floor's bell and the typical agitation of the trading screens was heightened during the show when they began to flicker (an intentional disruption).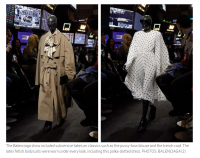 Backstage, after he greeted guest and sometime collaborator Kanye West, the brand's creative director, Demna (who goes by a mononym), was himself wearing one of the collection's constricting latex pieces. He said the pieces, which cover the entire head leaving holes only for the eyes and mouth, were about erasing the identity of the person wearing it. He admitted that it was quite hot, and that he'd be removing it as soon as possible.
Blotting the bits of his face he could with a tissue, Demna said the fetish bodysuits connected to the show's NYSE location because "money is a fetish, probably the biggest one in the world in a perverted way."
Demna said he wanted to show at "the epicenter of capitalism" because "I think money and identity are very, very connected in a weird way and not necessarily a very healthy way."
For a brand that is
committed to expanding its market
in the U.S., it may be counterproductive to instigate a critique of capitalism. But as Demna showed at
his fall 2022 show
, a searing statement on refugees and Ukraine, he is not afraid to wade into moral and philosophical ambiguity.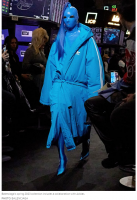 In a practical sense those dark, tight fetish suits also served to stylistically unify a collection that held two distinct parts: a new "Garde Robe" subcollection of refined classic suiting and separates for all genders, and a collaboration with Adidas that spun the classic tracksuit into oversized, ironic funhouse versions of the classic. Pieces like a navy trench, pussy-bow blouses in beige and navy silk, and roomy blazers were surprisingly classic for a brand that is at the forefront of hype conceptually.
One top-handle purse shown is called, appropriately, "The Money Bag." Oversized pumps for women and brogues for men may be a harder pill to swallow as I can't think of anyone outside the clown community who wants their feet to appear larger.
Drawing a connection between the collection and the show's location, Demna summed it up: "It's all about the money, right?"
---------------------------------------------------------------------------------------------------
And more links about the collab:
https://www.yahoo.com/lifestyle/demand-tracksuits-soars-balenciaga-x-180945172.html
Balenciaga Spring 2023 Collection and Adidas Collaboration, Photos – Footwear News