I'm really disappointed to let you all know my bad experiences with Onquestyle. One month ago, I consigned a new B35 Rouge Pivoine togo GHW, with all seals intact on feet (brand new condition). They refuse to purchase, but would like me to consign the bag for 60 days.
I trusted them, and left the bag on their hand. When I returned to pick up the bag, the shape is out, seals on feets are gone and all scratches on 4 feets. Certainly, this cant be a brand new bag. They are very irresponsible. They said they would pay for the bill of polishing 4 feets, but the feeling of a new bag isnt the same any more??? If they can't take care of the bag, how would we trust them to sell anything? If you are thinking to consign at Onquestyle, make sure you capture conditions of the bag as proof.
I'm sure I will never ever go back to Onquestyle again.
Thanks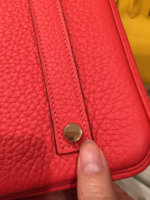 Last edited: