Hi everyone! I recently ordered a DE mini pochette to have as a backup for when my current one from 2013 eventually wears out. Decided I might as well buy now before a price increase and bc preloved prices are insane.
Now that I've received it, I'm second guessing if mono would have been a better choice:
(TL;DR: Main concerns are about how mono vs DE ages, and whether it is redundant to have both a mini and bucket pochette in mono)
Mono print fades less visibly compared to DE. (Don't care about vachetta bc it can be replaced.)
I hear quality has changed in recent years - does anyone have issues with their newer DE pieces fading more quickly/noticeably than older ones?
I have the bigger bucket pochette in mono. Is also having the mini in mono too redundant? (Pic below)
Mono is more "flashy" - the pochette would mostly stay in my bag but I'd feel strange taking it out at work for example.
BUT the DE piece I received has no flaws and a mini pochette in any print is hard to come by, so maybe I should stick with it.
I'm definitely overthinking but I'd love to hear your thoughts. TIA

edit to add: the DE below is my current/old pochette and wanted to share the size of the bucket pochette for opinions on redundancy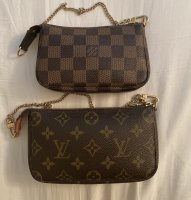 Last edited: