I recently purchased a 17P blue boy bag and I'm extremely disappointed in the quality of this purse...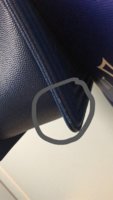 Earlier this week I found a few chipped spots on my bag... so i thought maybe i wasn't careful so i moved on...
i just went out for dinner with my friend and i was babying the bag so much, the bag was sitting on my lap the whole time and i made sure nothing sharp was near it (eg jacket zippers) ... i just got home and i found out more chipping happened!!! I have no idea how it happened because i am sooo extra careful already!
new chippings found after dinner...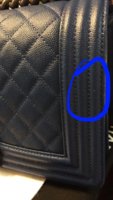 To all 17P caviar owners... what do you think of your bag? I hope no one has the same problem as me...
Thanks for letting me share! Please let me know what you think, if you have a caviar boy flap from other years/seasons I would like to hear about yours!