Hello! As some of you have probably seen in the Chanel forum, I got my Chanel bag painted: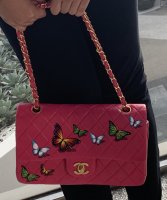 https://forum.purseblog.com/threads/im-getting-my-chanel-bag-painted.1002837/
The thread sparked a lot of interest, and I was pleasantly surprised by how much you all loved the final product!
I did a lot of research before finding the perfect artist to work on my baby. This led me to discover a lot of talented artists out there, so I thought it would be fun to mention those artists here and post some of their amazing work.
I will post the work of a different artist every few days, so stay tuned!