"The Bag Whisperer!"
O.G.
Dec 18, 2009
15,557
11,107
Do you ever see someone buying a MFF bag at the outlet and feel the urge to tell him/her to get an FP delete bag instead? That's happened in situations when I feel that the FP delete is a nicer bag and a better bargain, but I usually resist the urge and walk away.
I was at the outlet this weekend and I overheard a man talking to a SA about buying a purse for his wife. She was showing him the Chalk Sierra Satchel with embossed snake trim F57504 SV CAH and telling him that it is a very popular bag (and I am sure that's true).
I think that the MFF chalk Sierra Satchel is very attractive and well-made and I am sure his wife will love it; but there was another chalk purse sitting on a nearby shelf that I felt was a much nicer bag - the chalk Nomad 36026 LI CHK.
I don't know how much they were asking for the Sierra Satchel, I'm guessing $150? But the Nomad was reduced 60% and was selling for $198 (retail $495). Not a big difference IMO.
I was so tempted to butt in and say "if you want to buy a white bag for your wife then give her the real deal!" and then take him over to the Nomad display and tell him about the difference between MFF and FP and show him the thick glove-tanned leather and the brown leather lining - but I didn't do any of those things. I held my peace and later saw him in the checkout line holding the Sierra Satchel. I am sure that his wife will be thrilled because it is a very nice bag and it was a gift from her thoughtful husband.
So do you ever feel the urge to "butt in" at the outlet?
Below are drill-down pics of the 2 bags and they are both beautiful, do you agree with my choice or am I just a FP snob?
Chalk Sierra Satchel SV CAH: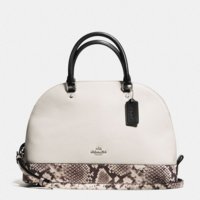 Chalk Nomad 36026 LI CHK: