Been so busy haven't really been on here to share my goodies with my fellow purse lovers! So here we go
Black Caviar Timeless Clutch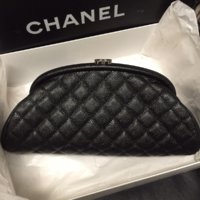 I've been in love with this clutch since I first laid eyes on it in 2007! At the time I was collecting LV and Gucci, and never thought I would spend so much money on Chanel. In hindsight I wish I had started my Chanel collection earlier when they were wayyy cheaper! Anyways, fast forward 10 years, after however many flaps in my closet, I finally decided to look for my beloved clutch. So happy to have found one Like-New looking like it was bought straight from the boutique!
So Black Chevron 226 Reissue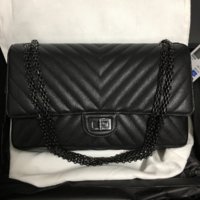 I had a so black chevron lambskin classic flap in medium, and although most of my flaps are medium size, I wasn't feeling the so black in medium, wanted it a bit larger. So when I saw this one was available I sprung for it sight unseen, and although the size is perfect and it is gorgeous, it just doesn't make my heart sing like the classic flap does. So this baby will be going back to Bergdorf. I really do hope they release the so black in caviar, I'll be all over that!
14b taupe medium Classic flap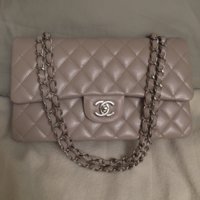 No story behind this.. just love love love!!!!
Thanks for letting me share, sorry for the essays attached. Feels good to be back on TPF, where I can share my purse obsession with people who understand it