I'm confused.
I bought my beige classic flap early February this year. There was no tag and I'm not sure what colour it is. I assumed it was beige Claire because it's a lighter beige - but now it sounds as though it's a seasonal beige and not beige Claire.
Can any shed some light re: the actual colour of my classic flap?
The code on my receipt says: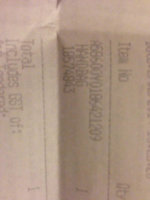 I had previously taken photos of my bag and without flash, it looked exactly like the photo your SA sent.. But it looked much darker when the photo was taken with flash on.
Last edited: