I'm in the fortunate position to be able to get an anniversary band. A local jeweler is designing it with me, and I am trying to decide specs. I will also ask her these questions, but I thought I'd reach out to reddit to see if I could get more opinions.
This is my current set: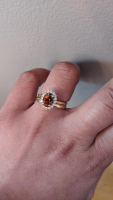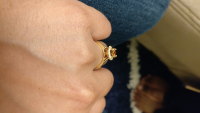 This is the style of ring I'm considering:
https://www.jamesallen.com/wedding-...ng-set-diamond-wedding-ring-30-ctw-item-53634
(btw, my local jeweler was able to beat James Allens' price by $50! Always ask around!)
I plan to wear the ring in my stack. Ideally, it'd go above my engagement ring, but I don't want it to scratch the prongs of my engagement ring.
My questions:
I'm a size 5.25. I would ideally like to not feel prongs/diamonds on my pinky/middle finger on the sides. Do you think I should reduce from a 10 stone ring to a 7 stone ring?
Do you think it'd make a difference in look if I increased from 0.3 ctw to 0.5 ctw or 1 ctw? This would mean each stone (assuming I have 10) goes from 0.03 carats to 0.05 carats or .1 carats, which seems negligible to me.
Does this shared prong design work well to sit flush to an engagement ring with a cathedral setting? I could wear it under my wedding band instead/use my wedding band as a spacer, but I'd prefer the more balanced look of having two rings on either side of my e ring.
Also, if anyone has a stack with a similar (or different) band you'd like to share, I'd love to see some eye candy!!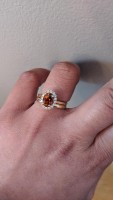 Last edited: