May 17, 2007
9,770
26,990
Would love for this to be a catch all thread of funny quotes, expressions and kitsch about our favorite brand. Starting out with a few that I've come across. Hope you all contribute and enjoy! Please be sure to quote source for proper credits.
Starting with the classic: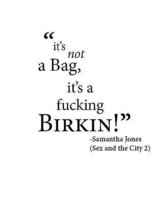 "The Hermes bag used to be mind-numbing at $6,000. Now, according to several sources, the waiting list is closed for the Birkin. No matter if Oprah couldn't get into that store."
Diane Clehane
"What Hermès is in fashion, [Kvadrat] is for me for upholstery and the furniture business. And they have a very beautiful attitude. They are producers of fabric, but they connect to artists and architects — from unknown to known, young, old. We are now some years later and it feels very natural"
Raf Simons
on AMUSE 3.24.17
"In the past the environment has been viewed as something like a Hermes silk tie or a Gucci handbag-a luxury only affordable when all other issues have been resolved, but this (WRI) report, allied with a series of other new and authoritative studies released over recent months such as the Millennium Ecosystem Assessment, overturns this myth and underlines in graphic detail the importance of `natures` natural capital alongside financial and human capital."
Klaus Toepfer