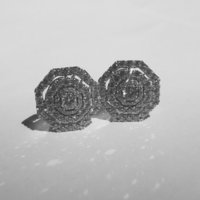 I love earrings but tend to get stuff on the conservative (timeless side) like studs and hoops.
I didn't think I'd like this pair of earrings but when I put them on I did like them very much indeed. They really stand out and can be worn with jeans, work clothes or formal wear.
They are my (very expensive) birthday gift to myself and I hope I won't regret them many years down the line.