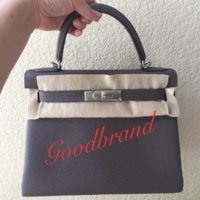 Beside my skinny leather strap which come with my Etain Kelly, I like to order 2 extra canvas straps :
- Strap #1: canvas part is Etain / Togo leather part is Etain
- Strap #2: Amazone strap. * Hermes email me these color options (see picture) I can choice for my Amazone strap, unfortunately I don't see Etain color for leather part . Do you think this color option: colors of canvas: 6T Toundra / 30 Noisette , and color of leather : 18 Etoupe are best match or NO.
I need help, is any suggestion : order one regular canvas strap and cancel Amazone strap. TY