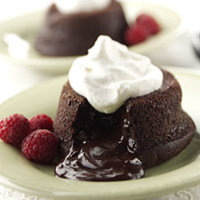 I found this recipe on a whim last night and it looked so simple I just HAD to make it. Calling this recipe easy is an understatement...anyone can make it and the cake is to die for.
http://www.famousfrenchdesserts.com/chocolate-lava-cake-recipe.html
Tips:

-I used the whisk attachment on my hand-mixer to whip up the eggs and sugar.
-If you don't have a double-boiler to melt the chocolate all you need is a smaller pot and a bowl that's big enough to sit on top of the pot without falling in. *Put about 2 inches of water in the pot and boil on very high heat with the bowl of chocolate on top. BOOM, double boiler!
-I don't have ramekins so I used a muffin pan and they turned out perfectly! You can also use a cupcake pan but the servings will be smaller.
-10 minutes is perfect for a really oozy center. I left mine in for 15 mins so it was equally gooey and cakey.
-I topped mine with whipped cream and strawberries but it is just as good by itself. You can also sift powdered sugar over the top.
-It is Heaven when it's right out of the oven.

If you try this recipe please take pictures! I'd love to see how you like your Lava cake: gooey, cakey, fruit on top and so on!

I'll take some when I make these next week!