Hi all! I am self-confessing as a troubled Chanel fan, meaning I have always had a love-hate relationship with the brand. The prices are insane, but sometimes I love the bags. Sometimes I find a bag that's not great quality and its infuriating. Sometimes I don't care. I DEFINITELY want Hermes more than Chanel, so I am of two minds while saving for my purchases. I'm not going to devote my money to having a large Chanel collection, so I probably have to content myself with just one or maybe two a most in my life. I'm currently saving up for my first Chanel, and I've hit a dilemma.
Everyone I know, and all the SAs I've talked to, tell me to get a black bag if I'm not going to build a huge collection. But... I haven't been able to pull the trigger on a classic black Chanel yet, and I don't know why. I think it's because I don't actually like the black and gold combo (I legit have no black/gold combo bags in my collection)! Recently, I started watching Caitlyn Pawlowski's channel on Youtube, and she has a GORGEOUS Navy Blue Boy bag with GHW, and I am 100% envious of it. THEN, I saw THIS beauty on the website.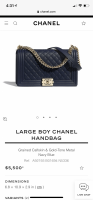 It's bigger than most popular bags right now, and it's blue. Not black. Is it more or less versatile? I can't tell anymore. What do you guys think of Navy Blue as a "classic" color? Do you have/like Navy Blue bags? Should I go for this one? Or should I get a classic flap in black (like in a small or mini size?).
Sorry for the long ramble. I struggle with Chanel.