I have gone back and fourth on whether or not to post a thread regarding which size Alma I should get, but I am starting to feel conflicted again! I will be purchasing soon, so that's why I want some final input.
So, I have seen both sizes in person. The first impression I had of the Vernis Alma (that's the material I want) was a bright pink and a bright red in the BB size. I admired them from across the room, but I was buying a different bag that evening. Something inside me said "That is so adorable and luxe! But is it for me?"
My second impression of this bag was the one that made me feel like this was my dream bag: Amarante PM. I saw a lady walk into Starbucks with this bag, and I couldn't stop starring!
So when I was invited to a private party in my local boutique last October, I saw the PM in Amarante and felt sure this was the one for me. I did take a sneak peak at the BB, but immediately wrote it off thinking it was too small.
Now, seeing some lovely reveals of the Amarante in the BB size, has me reconsidering! There is something so special about the BB size. It's like a little treasure box! It's such a ladylike bag!
The PM obviously has more space, and to me, looks more like a showstopper piece; in crook of your arm, or handheld, it's stunning!
I recently bought the Favorite and had to adjust to what I can bring with me considering the size, but I've managed. I do always need to bring some makeup with me.
This bag will be my first super special bag, and it will be a gift for graduating with honors. So I want to be sure I make the right decision.
For those of you who have the PM and BB, what are your thoughts on size? Also, for those who have just admired the Alma, what size really a "wows" you when you see it? All input is appreciated! I'll post 2 pics of me trying the bag when I was in the store this past fall:
Alma PM, Amarante Vernis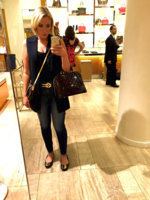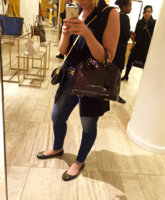 Here is the BB (picture from Pinterest)
One additional thought, do you think the BB will remain looking better over time as opposed to the PM?
Last edited: