Well, it's been about 2 years since, I believe.. Lots of things have happened..
We moved countries.. Had a baby (our 4th! ;p).. Discovered a liking for Balenciaga (it's different, with a vintage feel!).. But never lost the love for LV.. In fact, I've added some SLG's to my collection (gotta love those!)..

Anyway, I have bookmarked TPF now.. So I'm looking forward to seeing and sharing more of the LV love!

Oh, and I have a few purchased items to show too!!

)
(just have to figure out how to upload photos using this app..)
Let's start with the most recent (2 days ago! ;p)..
I kind of wanted something to add to my travel options.. Browsed through the LV website to see what's new.. Lots, apparently! ;p
Anyway, I decided to visit our nearby LV shop.. Sometimes, one has to see, touch, wear.. to figure out what feels right..

I've never really been a 'monogram' girl.. But somehow, this one drew me in..
There's just something about it that spells classic, carefree, and chic..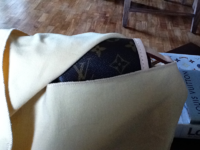 Care to guess?