I am keen to buy my first Chanel bag --- I have a classic black caviar WOC but have been thinking about getting a bag. Today accidentally I saw this one: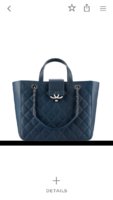 I am loving it because it is light, functional (small tote, can be shoulder carry), and have the Chanel signature without being over the top. Note that I have a small kid and most of my usage is for work (professional setup) and weekends with family, and I generally don't go partying in fancy places. I use my premier designer bags at work.
What would be your advice for this one as my first Chanel? It is not a classic but I also think I won't get much use of the classic given my lifestyle.