Hi everyone!
For those who have followed this and given their much appreciated support and encouragement - just a final update to my magnet replacement saga - and then I shall shut up (hehe!!)....but just HAD to share this with you!....
Well, this has now gone on for 4 months - and, as you know, there were several setbacks along the line (due to miscommunication between Repairs/Shop floor) meaning that my dear Black Darwin Roxy's faulty magnet went to the Repairs department at Shepton
three
times in total - but it was third time lucky thank goodness - and that all happened this morning (while I sipped coffee and waited!!!).....
Last time I informed you that Gillian (Head of CS at The Rookery) had agreed to replace the two pocket magnets (with the newer style ones - they no longer use the old polo style) free of charge as it had been such a fiasco - trying to source the old magnets (unsuccessful) and each time poor Roxy slipping under the repair-net and being completely overlooked as a result!
Anyway, it's been mad lately, so I only managed to get over to SM this morning to finally pick up dear re-conditioned Black Roxy and my Choccie who was in for a separate "health check".
So OH and I arrived just before opening time and were first through the door......greeted by Sadie and Abby on reception, and they duly brought out my bags, wrapped in tissue and in new Mulberry carriers....all good so far.......had a little browse, and then OH (thank
goodness
, as I wasn't going to bother) suggested I open up the bags to check all was in order......
Took out Mitchell (Black Darwin) and.......guess what.......
NOTHING
had been done - same old magnets........no change!
So you can imagine I am not a particularly happy bunny - and voice my displeasure in tactful (but no uncertain) terms!!!......Sadie and Abby are non-plussed and apologetic and the former is immediately on the phone to Gillian et al to see what on earth is going on. Abby (who phoned me the two previous times saying bag was sorted and ready for collection) just looked so puzzled and at a loss to know why this had happened!!!.....
Anyway, Sadie (complete delight) said that if we didn't mind waiting and having a coffee on the house, she would buzz round herself forthwith with Roxy to Repairs and ascertain whether they could sort! - five minutes later she then phoned me in the coffee shop and said they had actually
FOUND
some of the old magnets and would do the job on the spot........just such a surreal situation after all this time......anyway - back she comes - all done and dusted - brilliant ( but it is a mystery as to why this couldn't have been done in the first place???!!!.....).
In the meantime - and this is the exciting bit - I had wandered into "Clearance" and spotted, blow me down, a Rio Darwin Roxy - a rareish creature (so most surprised) - sitting all quietly on her own.
I was chatting with Sadie and thanking her for finally sorting prob and happened to mention that it was unusual to find one of these, and also that the price was still rather high for a clearance item - she agreed, and said she would see whether they could be flexible - also bearing in mind that it had a small pen mark on the base, and, also, when opened, a longish graze to the leather on the interior back flap........
So she mused on it, and then said they could prob do 50% off, and I hummed and haaed (a little!) - and said I would think about it......browzed some more (by now OH had given up the ghost, and was waiting in the Carpark!!) - and then, blow me down, Sadie came over to me and said, as a Goodwill Gesture, and as I'd been messed around so much with the repair issue, they would give me £200 to spend on something.....
I was obviously extremely pleased about this, and then (I am like this I'm afraid!!) cheekily brought Rio Roxy back into the equation - and said was there anything they could do re: that!!!.....she then went and picked it up, handed it to me, and said I could have it!!!!!!
Well, a very happy Rox indeed - and she even gave the graze a polish with her sheepskin cloth and it came up a treat!.....
So all good now, and I just thought you might like to see my new addition.....(apologies from Mitchell as she declined joining the photo session - still a little fragile from this mornings surgery!!!)....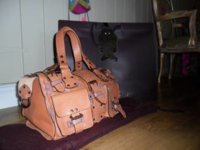 Footnote: OH, I hasten to add, has taken complete credit for this wonderful outcome, for suggesting I check the bags in the first place!!!...typical....