Hello everyone! This is my first thread (ooooh exciting!). So I posted on the 'show us your sales purchases' thread a few times regarding my chocolate SBS that I wasn't entirely smitten with. In the end, I decided to give it a chance but since then it has been sat in the dust bag, not worn it once

so in the end, it went back. I think it was the right decision!
Today I popped over to Shepton Mallet to see if anything caught my eye, and it did! So here she is. My gorgeous Del Rey in deer brown. It's so more 'me' and I am definitely feeling the love for this bag!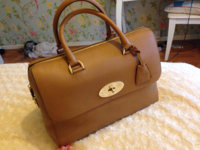 A little modelling pic (pardon my bare feet!)