Hi guys, I was in Paris over the weekend, and was moseying around the various boutiques, picking up little pieces of pretty all around...
However, I knew that no trip would be complete without a trip to Louis Vuitton... [emoji12]
I do apologise that it's a rather lengthy post, but it was such a palaver to get hold of this that I wanted to recount the whole process that I went through.
My first stop was the Avenue Montaigne store, which was absolutely beautiful, and a tad less frantic compared to other LV locations.
I first considered the Americas Cup 2017 I'd badge holder, as I had been looking for one of these to use for my daily commute. Unfortunately the strap was just a tad too short for my liking and I eventually passed on it.
I then went to the travel section to browse the various pochettes and cosmetic cases on offer.
I took a look at the rounded cosmetic case, but found the large base to be a turn off as it would be difficult for me to fit it into most of my bags, bar the most capacious ones...
I ended up debating between the Poche Toilette 26 and 19, in Monogram after considering the Monogram Eclipse (I chose against it considering that all the rest of my LVs are either Monogram or Epi leather...)
Both were available in the Avenue Montaigne boutique, but me, being the prize idiot, hadn't realized how sought after these pieces were. I told the SA that I would sleep on it and decide on whether I would get either one of the Poches the next day. She mentioned that each of the Paris stores had at least one of them, and that the Montaigne boutique would be open on Sundays in any case.
The next day, I decided that I definitely wanted the Poche Toilette 19. The size was perfect for most of my bags, and it was just what I was looking for in a pochette.
When we were at Galeries Lafayette on the Sunday, the queues were so long for the Vuitton concessions that I didn't even want to contemplate waiting that long for an accessories pouch, and instead focused on helping my cousin get a wallet at Faure Le Page.
As me and my cousins were having lunch in the Champs Elysees area, I thought that I might as well try and get the poche at the flagship store. I would have to say, I would definitely give the Champs Elysee boutique a wide berth.
There were so many people in there, it felt like an emporium!
When I was first finally served by this male S.A., who when I mentioned the Poches, immediately said, without checking his inventory, that there was no stock of it in store. I was a little skeptical, and pressed for him to check. He went to his computer and again said nope we have none in stock. I had passed by a woman who was looking at a Poche 26, and mentioned this to him. He looked at his computer again and said, oh yeah we have one Poche 26, so it must be the one she's looking at. I asked if he could check if any of the other stores had any in stock, and he said they were sold out in all of Paris. [emoji58]
I knew I wasn't going to get anywhere with this S.A., so I decided to look elsewhere. I found another S.A. in the travel department and asked her about the Poches. She immediately said the only ones they had in stock were the ones on display, and pointed to a fuchsia Poche 19 in Epi. "You don't like this one? This is the only one we have."
I reiterated that I wanted one in Monogram, and I had decided that I wanted one in 19. She came back with a 26 in Eclipse, and said, "Limited edition from the fashion show, take this one, its better."
Christ on a bike, this was getting annoying. Every time I was about to say something, she would interrupt me mid-flow and take the conversation in a different direction.
I asked her to check if any of the other stores in Paris had a Monogram Poche 19, and she found that both Galeries Lafayette and Le Bon Marche each had one, which definitely contradicted what her other colleague had said when he "checked". I was glad I followed up with her instead of relying on him.
Although Galeries Lafayette was showing one in stock, when she called them, they were unable to locate the piece. Le Bon Marche however had the Poche 19 in stock, and was happy to put it on hold for me for an hour.
Uber to the rescue! We made our way down to St Germain, which definitely felt like a whole world away from the tourist-packed parts of Paris, and arrived at Le Bon Marche.
After that day's experience, I found myself questioning why I ever went shopping in the other Grand Magasins when Le Bon Marche was absolutely serene and perfect for a calm, collected shopping experience. Although there were people milling about, it looked that the majority of them were local Parisians, and it was nowhere as packed as the department stores on Haussmann.
We got to the Louis Vuitton department, and the S.A. who had my Poche 19 on hold was absolutely lovely, getting us some drinks and little darling chocolate chip cookies while we browsed at our leisure.
After I had decided on the Poche, she also showed us the LV perfumes and threw in a couple of samples for me to try at home.
All in all, although it was a mission and a half to get my prized Poche, it was worth it getting it at Le Bon Marche, as it opened my eyes to a whole new retail opportunity whenever I'm in Paris!
Finally, presenting my hard-won Poche 19 in Monogram! Thanks for putting up with my long rambles!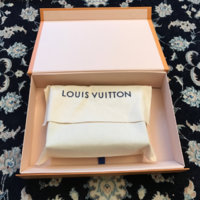 View attachment 3663696
Last edited: