My love for LV started in 2005 when I saw a pink cherry blossom Pochette for about $150 from a local consignment shop. For a 17 year old that wasn't a small sum of money but I thought I could get the money together. It was fake (gasp!) but I wanted it.
Ultimately I decided against it and ended up scouring eBay a year later after I got my first credit card...I was working as a busser in a fine dining restaurant and making decent money for an 18 year old. I bought my first preloved LV - the same pink cherry blossom pochette I saw in that consignment shop, but authentic (and about $300 more).
There was this one bag I always wanted but ever bought. I was *this close* to paying for one on eBay in the late 2000's but realized last minute it was fake— I should've known; the price was too good to be true. It ended up being a bag that's always been on my wish list but never made it into my collection all these years.
I've been going a little crazy lately with acquiring bags, checking things off my ever-changing wish list and all of a sudden started searching for this again. By now the preloved market is no longer saturated with cherry blossom pieces and most of these are super pricey.
I paid much more than I should've for this, but I'm super happy with it. It is overall in pretty good condition but needed a tiny bit of TLC when it arrived - it looks like someone's fur baby had chewed on the bow, the bag had some water spilled on the front (marking the bow and tarnishing the lock) and one of the cherry blossoms had a stain over it. But it cleaned up nicely.
None of the cherry blossoms had any rubs/scuffs, which is a deal breaker, and I'm very happy with this. May I present you: my new to me Cherry Blossom Sac Retro in brown!!
Shortly after box was opened: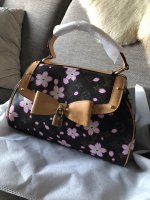 After a quick clean: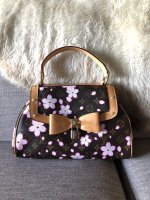 The bow with a giant water stain which someone's fur baby gnawed on, and the filthy lock: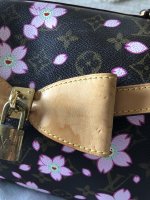 Bow and lock cleaned up: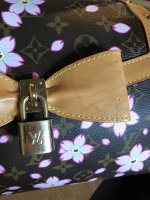 And finally: the newest piece pictured with the first piece in my collection!